Location of Uzukanomori
Uzukanomori is easily accessed by bus,train, car or even airplane. From Kyoto, Osaka, Kobe and Himeji in particular you can ride bus to Uzukanomori.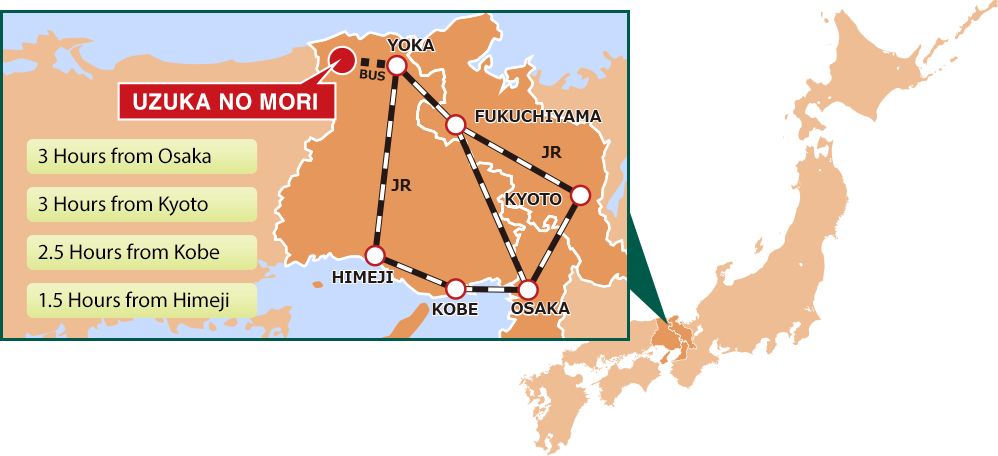 Recommended access to Uzukanomori is bus
Traveling by bus can be a very economical way to directly reach Uzukanomori, yet also relatively easy for foreign visitors to use.
Highway Buses that run direct to Uzukanomori depart from Kobe (bus terminal next to Sannomiya Station) or Osaka (Umeda Station, right next to JR Osaka Station) .Kobe route runs about two times day and takes an average of 2 hours 30 minutes to reach Uzukanomori, Osaka route runs about three times day and takes an average of 3 hours to reach Uzukanomori.
The name of the bus company that operates the highway bus to Uzukanomori is "Zentan Bus".
Bus terminal guide in Kobe
STEP1

Go to the east exit of JR Sannomiya Station.

STEP2

Seek the Port Liner entrance.

STEP3

Next to it, there is a bus terminal, but it is the direction of " Shinki Sannomiya Bus Terminal ", Do not mistake. According to the sign, and proceed about 100m, there is a crossroads.

STEP4

Signs of Shinki Sannomiya bus terminal I you will see.

STEP5

It's arrival.

STEP6

At the counter, you should buy a ticket to say " until Zentan bus direction Hamasaka Fukuoka Hachikita guchi ".
Landing it is a place called 15A!

Click here when you buy a ticket,and show the screen to the staff.
Bus terminal guide in Osaka.
STEP1

Go to the Midosuji exit of JR Osaka Station.

STEP2

Cross in the direction of the Hankyu Department Store.

STEP3

Walk with the aim of just a slip through under guard toward the left Hotel New Hankyu Osaka ( is the appearance of silver .).

STEP4

Once past the hotel enter the road to the east, there is a bus stop under the guard of Hankyu.
Access to Uzukanomori by train
JR Osaka to Uzukanomori: About 160 minutes, 1 transfers

JR Kobe to Uzukanomori: About 150 minutes, 1 transfers

Himeji to Uzukanomori:About 125 minites,3 transfers

JR Kyoto to Uzukanomori: About 155 minutes, 1 transfers

Tokyo to Uzukanomori: About 320 minutes, 3 transfer

Access to and from Uzukanomori via Hiroshima : About 220 minutes
From Kansai International Airport (KIX)

From Kansai International Airport you can easily get by train to Osaka, Shin-Osaka or Kyoto Station.From there, take any limited express train as detailed above.
To save money, you could also take an airport limousine bus to Osaka, Kyoto, Kobe (Sannomiya) or Himeji and catch a train from there.

From NARITA INTERNATIONAL AIRPORT

From Narita International airport take the Limited Express Narita Express to Tokyo JR Station.Then take the shinkansen* to Kyoto. From Kyoto follow train access directions listed above.*JR passes can NOT be used with "NOZOMI", "MIZUHO", or "HAYABUSA" shinkansens.